-
JOOBY OMNI RM 4PU 201 EU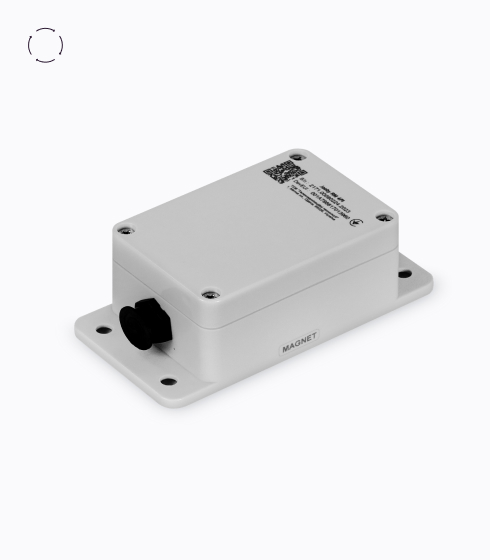 Part number: JOOBY OMNI RM LoRaWAN 4PU 201 EU
JOOBY OMNI RM 4PU 201 EU
LoRaWAN radio module with external connection sensors for various meter types
The radio module is designed for automatic meter reading. The device is connected to meters using smart sensors. The received data is sent to the resource supplier through the wireless network LoRaWAN, where it is converted and becomes available in the unified metering system. This enables you to quickly and conveniently get relevant information about the consumption of resources. Hourly, daily, monthly, and annual consumption logs are kept for this purpose.   
The frequency of meter reading can be adjusted and changed from once an hour to once a day by using the mobile app. The device runs on two batteries with a capacity of 2.5 Ah.

*LoRaWAN is a registered trademark of Semtech Corporation.
Remote data collection

from all metering points

Data transmission frequency

customized

Average lifetime

10 years (1 data transfer per day)*

Message alert

Battery charge

Installation

up to 5 minutes
OPERATION PRINCIPLE
The radio module is mounted on a flat surface (e.g. on a wall) close to the meters. The device is then connected to the meters using a "dry contact" or "open collector" interface and activated using the mobile app. Proprietary and third-party sensors can be used to connect to the radio module Jooby OMNI RM LoRaWAN 4PU 201 EU. 
If sensors from other manufacturers are connected, additional parameterization of the pulse radio module may be required to coordinate its operation with the connected sensor(s).
After installation and activation, the radio module starts to send readings through the LoRaWAN wireless network to the base station and then to the resource supplier's server using an Internet connection. All consumption information is available in the Jooby RDC Dashboard. You can connect to it from anywhere with Internet access and at any time of day. 
Jooby OMNI RM LoRaWAN 4PU 201 EU radio module is powered by a built-in high-capacity power supply. This enables the device to work in standalone mode for up to 10 years and means that our sensors  do not need their own power supply.
This model is delivered with two built-in batteries (unlike the JOOBY OMNI RM 200 which has one battery).