-
JOOBY OMNI RM 4PU 204 EU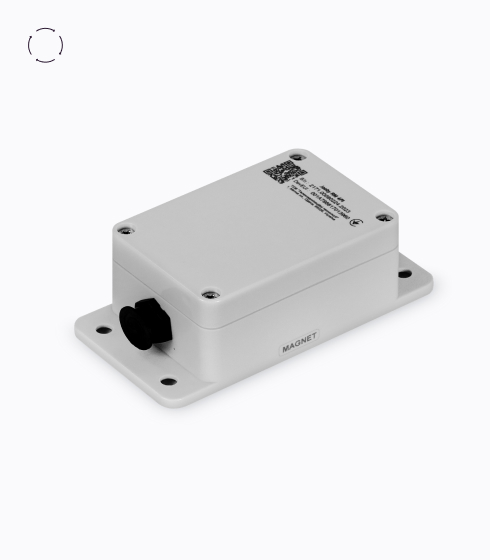 Part number: JOOBY OMNI RM LoRaWAN 4PU 204 EU
JOOBY OMNI RM 4PU 204 EU
LoRaWAN radio module with external connection sensors for various types of meters
The radio module is designed for the automatic reading of four different types of meters at the same time: the device can be used for gas, electricity, heat, and water meters.
The radio module is installed according to the following algorithm: the device is installed on the wall near the accounting devices. Next, the meters are connected to the JOOBY OMNI RM 4PU 204 EU and the radio module is activated in the mobile application. During the installation, you can change the default reading frequency and set the desired time interval: users can choose options from once per hour to once per day.
The JOOBY OMNI RM 4PU 204 EU is equipped with smart sensors that allow the device to collect meter readings. The radio module also records any attempts at unauthorized interference in its operation. The device sends all the collected information via the LoRaWAN wireless network to the base stations, from where it is sent to the server and becomes available to the resource provider.
The radio module is connected to meters with pulse outputs via the JOOBY CONNECTOR cable (not included in the package). The device runs on a 8.5 Ah battery.

*LoRaWAN is a registered trademark of Semtech Corporation.
Remote data collection

from all metering points

Data transmission frequency

customized

Average lifetime

10 years (1 data transfer per day)*

Message alert

battery charge

Installation

up to 5 minutes
OPERATION PRINCIPLE
The radio module should be installed and activated in the installer application, where it is then ready for use. At the set frequency, the radio module records the readings of the meters connected to it and stores the data in non-volatile memory.
Using the confirmed settings, the device transmits data to the server on a scheduled basis via the LoRaWAN wireless network. The process of reading and transmission is fully automated, so suppliers will receive accurate data on time and on schedule.
The radio module is powered by an integrated battery. The total lifetime of the device ranges from 5 to 15 years, depending on the transmission frequency of the readings.